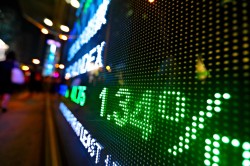 B. Riley reaffirmed their buy rating on shares of Cardiome Pharma (TSE:COM) (NASDAQ:CRME) in a report released on Tuesday. B. Riley also issued estimates for Cardiome Pharma's FY2018 earnings at ($1.35) EPS, FY2019 earnings at ($0.87) EPS, FY2020 earnings at ($0.46) EPS, FY2021 earnings at $0.07 EPS and FY2022 earnings at $0.73 EPS.
Cardiome Pharma has a 52-week low of C$1.64 and a 52-week high of C$6.06.
About Cardiome Pharma
Cardiome Pharma Corp., a specialty pharmaceutical company, engages in the development and commercialization of therapies for the treatment of patients suffering from heart diseases. It offers BRINAVESS (vernakalant (IV)) for the conversion of recent onset atrial fibrillation to sinus rhythm in adults; and AGGRASTAT, a reversible GP IIb/IIIa inhibitor for use in acute coronary syndrome patients.
See Also: How to calculate the intrinsic value of a stock

Receive News & Ratings for Cardiome Pharma Daily - Enter your email address below to receive a concise daily summary of the latest news and analysts' ratings for Cardiome Pharma and related companies with MarketBeat.com's FREE daily email newsletter.