Calian Group Ltd (TSE:CGY) Director Kenneth Jeffrey Loeb acquired 2,000 shares of the business's stock in a transaction dated Friday, March 17th. The stock was acquired at an average cost of C$25.99 per share, with a total value of C$51,980.00.
Shares of Calian Group Ltd (TSE:CGY) traded down 1.94% during trading on Monday, hitting $25.30. The stock had a trading volume of 9,065 shares. The company has a market capitalization of $189.60 million and a price-to-earnings ratio of 13.61. The company's 50 day moving average price is $26.57 and its 200 day moving average price is $24.91. Calian Group Ltd has a 52 week low of $18.06 and a 52 week high of $28.36.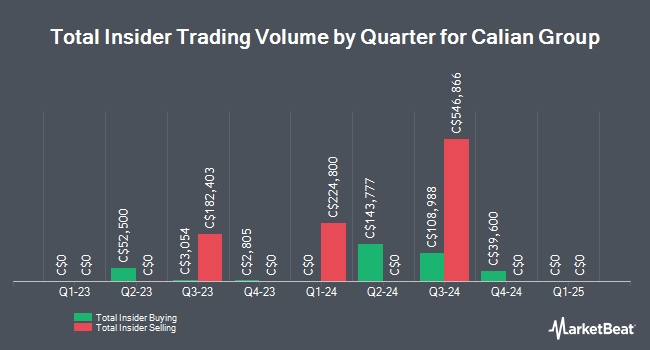 The company also recently announced a quarterly dividend, which was paid on Wednesday, March 1st. Investors of record on Wednesday, March 1st were given a $0.28 dividend. This represents a $1.12 dividend on an annualized basis and a yield of 4.43%. The ex-dividend date of this dividend was Monday, February 13th.
This article was originally published by and is the sole property of Zolmax. If you happen to be reading this article on another website, it was stolen and illegally republished in violation of U.S. and International copyright law. The original version of this story can be read at https://zolmax.com/investing/calian-group-ltd-cgy-director-kenneth-jeffrey-loeb-buys-2000-shares/1248534.html
Your IP Address:
Separately, Desjardins raised their price objective on Calian Group from C$27.00 to C$30.00 and gave the company a "buy" rating in a research report on Friday, February 3rd.
Calian Group Company Profile
Calian Group Ltd., formerly Calian Technologies Ltd., is engaged in the provision of business and technology services to industry and government in the health, information technology (IT) services and training, and engineering domains, as well as the design, manufacturing and maintenance of systems to the communications and defense sectors.
Receive News & Ratings for Calian Group Ltd Daily - Enter your email address below to receive a concise daily summary of the latest news and analysts' ratings for Calian Group Ltd and related companies with MarketBeat.com's FREE daily email newsletter.