Kohl's Co. (NYSE:KSS – Get Rating) – Analysts at Telsey Advisory Group reduced their Q3 2024 earnings estimates for shares of Kohl's in a research note issued to investors on Thursday, May 25th. Telsey Advisory Group analyst D. Telsey now forecasts that the company will post earnings per share of $0.87 for the quarter, down from their previous estimate of $0.99. Telsey Advisory Group has a "Market Perform" rating and a $35.00 price target on the stock. The consensus estimate for Kohl's' current full-year earnings is $2.36 per share. Telsey Advisory Group also issued estimates for Kohl's' Q4 2024 earnings at $1.18 EPS, FY2024 earnings at $2.49 EPS, Q1 2025 earnings at $0.15 EPS, Q4 2025 earnings at $1.23 EPS and FY2025 earnings at $2.80 EPS.
Other research analysts also recently issued reports about the stock. Citigroup raised their price target on shares of Kohl's from $19.00 to $20.00 in a report on Thursday. StockNews.com began coverage on Kohl's in a research report on Thursday, May 18th. They set a "hold" rating for the company. Bank of America lowered their price target on Kohl's from $25.00 to $22.00 in a report on Thursday. Credit Suisse Group decreased their price objective on shares of Kohl's to $27.00 in a research report on Wednesday, March 1st. Finally, Deutsche Bank Aktiengesellschaft lifted their target price on shares of Kohl's from $25.00 to $28.00 in a research report on Thursday. Four investment analysts have rated the stock with a sell rating, seven have given a hold rating and three have issued a buy rating to the company. According to MarketBeat.com, the stock presently has an average rating of "Hold" and a consensus target price of $27.88.
Kohl's Stock Down 5.1 %
KSS stock
opened at $19.67 on Friday. The firm has a 50 day moving average of $21.77 and a 200-day moving average of $26.52. Kohl's has a 12 month low of $18.61 and a 12 month high of $47.63. The company has a debt-to-equity ratio of 1.17, a quick ratio of 0.18 and a current ratio of 1.17.
Kohl's (NYSE:KSS – Get Rating) last issued its quarterly earnings data on Wednesday, May 24th. The company reported $0.13 earnings per share (EPS) for the quarter, topping analysts' consensus estimates of ($0.44) by $0.57. The business had revenue of $3.57 billion for the quarter, compared to analysts' expectations of $3.37 billion. Kohl's had a negative return on equity of 0.47% and a negative net margin of 0.11%. The firm's quarterly revenue was down 4.8% on a year-over-year basis. During the same quarter in the prior year, the firm posted $0.11 EPS.
Hedge Funds Weigh In On Kohl's
Hedge funds and other institutional investors have recently made changes to their positions in the business. Freedom Wealth Alliance LLC purchased a new position in Kohl's during the 4th quarter valued at $26,000. Ronald Blue Trust Inc. increased its position in shares of Kohl's by 176.8% during the first quarter. Ronald Blue Trust Inc. now owns 1,027 shares of the company's stock valued at $26,000 after buying an additional 656 shares during the period. Eagle Bay Advisors LLC bought a new position in Kohl's in the second quarter worth about $26,000. SkyView Investment Advisors LLC bought a new position in Kohl's in the first quarter worth about $27,000. Finally, Quarry LP boosted its position in Kohl's by 81.1% during the 1st quarter. Quarry LP now owns 1,326 shares of the company's stock valued at $31,000 after acquiring an additional 594 shares in the last quarter. Institutional investors own 95.50% of the company's stock.
Insider Buying and Selling at Kohl's
In other news, CEO Thomas Kingsbury bought 92,500 shares of the company's stock in a transaction dated Wednesday, March 29th. The stock was bought at an average cost of $21.82 per share, for a total transaction of $2,018,350.00. Following the completion of the acquisition, the chief executive officer now owns 228,993 shares in the company, valued at approximately $4,996,627.26. The acquisition was disclosed in a document filed with the Securities & Exchange Commission, which is available at this link. Corporate insiders own 0.60% of the company's stock.
Kohl's Dividend Announcement
The company also recently declared a quarterly dividend, which will be paid on Wednesday, June 21st. Shareholders of record on Wednesday, June 7th will be issued a $0.50 dividend. This represents a $2.00 dividend on an annualized basis and a yield of 10.17%. The ex-dividend date of this dividend is Tuesday, June 6th. Kohl's's dividend payout ratio (DPR) is presently -465.11%.
About Kohl's
Kohl's Corp. engages in the operation of family-oriented department stores. Its business line includes apparel, footwear, and accessories for women, men, and children, home products, beauty products, and accessories. The stores generally carry a consistent merchandise assortment with some differences attributable to regional preferences.
Read More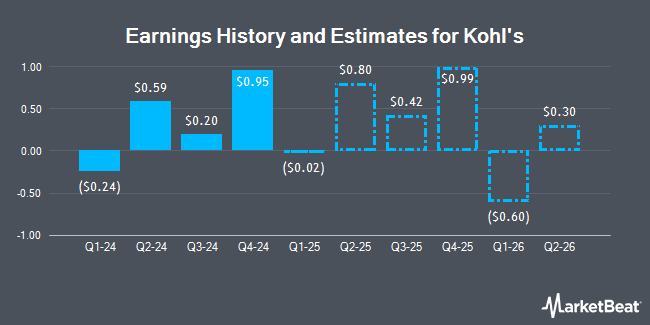 Receive News & Ratings for Kohl's Daily - Enter your email address below to receive a concise daily summary of the latest news and analysts' ratings for Kohl's and related companies with MarketBeat.com's FREE daily email newsletter.