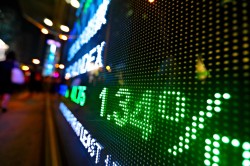 BLUEKNIGHT ENER/UT LTD PARTN INT S (NASDAQ:BKEPP)'s share price was down 5.4% during mid-day trading on Thursday . The company traded as low as $5.15 and last traded at $5.30. Approximately 3,100,755 shares traded hands during mid-day trading, an increase of 4,296% from the average daily volume of 70,542 shares. The stock had previously closed at $5.60.
The company also recently disclosed a quarterly dividend, which was paid on Tuesday, May 14th. Shareholders of record on Friday, May 3rd were issued a $0.1788 dividend. The ex-dividend date was Thursday, May 2nd. This represents a $0.72 dividend on an annualized basis and a yield of 13.54%.
ILLEGAL ACTIVITY WARNING: This piece was posted by Zolmax and is owned by of Zolmax. If you are reading this piece on another website, it was copied illegally and reposted in violation of United States & international copyright and trademark legislation. The original version of this piece can be read at https://zolmax.com/investing/blueknight-ener-ut-ltd-partn-int-s-bkepp-shares-down-5-4/3095121.html.
BLUEKNIGHT ENER/UT LTD PARTN INT S Company Profile (NASDAQ:BKEPP)
Blueknight Energy Partners, L.P. provides integrated terminalling, gathering, and transportation services for companies engaged in the production, distribution, and marketing of liquid asphalt and crude oil products in the United States. The company operates through four segments: Asphalt Terminalling Services, Crude Oil Terminalling Services, Crude Oil Pipeline Services, and Crude Oil Trucking Services.
Read More: Trading Stocks – What are percentage gainers?
Receive News & Ratings for BLUEKNIGHT ENER/UT LTD PARTN INT S Daily - Enter your email address below to receive a concise daily summary of the latest news and analysts' ratings for BLUEKNIGHT ENER/UT LTD PARTN INT S and related companies with MarketBeat.com's FREE daily email newsletter.