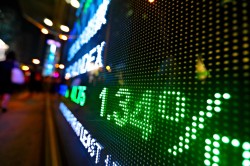 Bank First National Corporation (NYSE:BFC) CFO Kevin M. Lemahieu sold 700 shares of Bank First National stock in a transaction dated Wednesday, May 22nd. The stock was sold at an average price of $68.00, for a total value of $47,600.00. The transaction was disclosed in a filing with the Securities & Exchange Commission, which is available at the SEC website.
NYSE BFC traded down $1.80 during trading hours on Thursday, hitting $68.70. The company's stock had a trading volume of 720 shares, compared to its average volume of 6,170. Bank First National Corporation has a 12 month low of $35.02 and a 12 month high of $72.00.
Bank First National (NYSE:BFC) last released its quarterly earnings data on Wednesday, April 17th. The company reported $1.00 EPS for the quarter, topping the consensus estimate of $0.92 by $0.08. The business had revenue of $18.51 million during the quarter.
The firm also recently disclosed a quarterly dividend, which will be paid on Monday, July 8th. Investors of record on Monday, June 24th will be issued a $0.20 dividend. The ex-dividend date of this dividend is Friday, June 21st. This represents a $0.80 annualized dividend and a yield of 1.16%.
A number of hedge funds and other institutional investors have recently added to or reduced their stakes in the stock. BlueCrest Capital Management Ltd bought a new stake in Bank First National in the 1st quarter worth about $508,000. Morgan Stanley increased its holdings in Bank First National by 16.5% in the 1st quarter. Morgan Stanley now owns 5,469 shares of the company's stock worth $323,000 after buying an additional 774 shares in the last quarter. ExodusPoint Capital Management LP bought a new stake in Bank First National in the 1st quarter worth about $395,000. Marshall Wace LLP bought a new stake in Bank First National in the 1st quarter worth about $272,000. Finally, Citigroup Inc. bought a new stake in Bank First National in the 1st quarter worth about $94,000.
Separately, Sandler O'Neill assumed coverage on Bank First National in a report on Thursday, March 7th. They issued a "hold" rating for the company.
TRADEMARK VIOLATION NOTICE: "Bank First National Corporation (BFC) CFO Sells $47,600.00 in Stock" was first reported by Zolmax and is the sole property of of Zolmax. If you are reading this report on another website, it was copied illegally and reposted in violation of US & international trademark & copyright laws. The correct version of this report can be read at https://zolmax.com/investing/bank-first-national-corporation-bfc-cfo-sells-47600-00-in-stock/3093235.html.
Bank First National Company Profile
Bank First National Corporation operates as a holding company for Bank First National that provides consumer and commercial financial services to individuals and businesses in Northeastern Wisconsin. The company offers demand, time, and savings deposits; and checking, certificates of deposit, and money market accounts.
See Also: Why is the Consumer Price Index (CPI) important?
Receive News & Ratings for Bank First National Daily - Enter your email address below to receive a concise daily summary of the latest news and analysts' ratings for Bank First National and related companies with MarketBeat.com's FREE daily email newsletter.