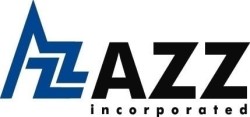 Shares of AZZ Inc (NYSE:AZZ) have been assigned a consensus broker rating score of 2.00 (Buy) from the two analysts that provide coverage for the stock, Zacks Investment Research reports. One investment analyst has rated the stock with a hold rating and one has issued a strong buy rating on the company.
Brokerages have set a 1-year consensus price target of $48.00 for the company and are predicting that the company will post $0.71 earnings per share for the current quarter, according to Zacks. Zacks has also given AZZ an industry rank of 104 out of 256 based on the ratings given to its competitors.
Separately, Zacks Investment Research raised AZZ from a "sell" rating to a "hold" rating in a report on Monday, March 18th.
Shares of NYSE:AZZ traded down $0.17 during midday trading on Friday, hitting $43.81. The company had a trading volume of 1,797 shares, compared to its average volume of 136,092. AZZ has a twelve month low of $37.43 and a twelve month high of $56.05. The company has a debt-to-equity ratio of 0.07, a quick ratio of 1.54 and a current ratio of 2.30. The stock has a market cap of $1.14 billion, a PE ratio of 22.34 and a beta of 1.44.
AZZ (NYSE:AZZ) last posted its quarterly earnings results on Monday, May 20th. The industrial products company reported $0.34 EPS for the quarter, missing the consensus estimate of $0.46 by ($0.12). AZZ had a net margin of 5.52% and a return on equity of 8.67%. The company had revenue of $202.50 million during the quarter, compared to analyst estimates of $223.29 million. The firm's revenue was up .9% compared to the same quarter last year. As a group, analysts predict that AZZ will post 2.59 earnings per share for the current fiscal year.
Large investors have recently bought and sold shares of the stock. NumerixS Investment Technologies Inc acquired a new stake in AZZ during the fourth quarter worth $36,000. Avestar Capital LLC acquired a new stake in AZZ during the first quarter worth $40,000. Covington Capital Management acquired a new stake in AZZ during the fourth quarter worth $59,000. Bank of Montreal Can increased its stake in AZZ by 19.0% during the first quarter. Bank of Montreal Can now owns 1,618 shares of the industrial products company's stock worth $66,000 after acquiring an additional 258 shares during the last quarter. Finally, Meeder Asset Management Inc. acquired a new stake in AZZ during the first quarter worth $93,000. 86.65% of the stock is owned by hedge funds and other institutional investors.
About AZZ
AZZ Inc provides galvanizing and metal coating services, welding solutions, specialty electrical equipment, and highly engineered services to the power generation, transmission, distribution, refining, and industrial markets. The company operates through two segments, Energy Segment and Metal Coatings.
Read More: What are gap-down stocks?
Get a free copy of the Zacks research report on AZZ (AZZ)
For more information about research offerings from Zacks Investment Research, visit Zacks.com
Receive News & Ratings for AZZ Daily - Enter your email address below to receive a concise daily summary of the latest news and analysts' ratings for AZZ and related companies with MarketBeat.com's FREE daily email newsletter.