Ameren Corp (NYSE:AEE) announced a quarterly dividend on Monday, February 11th, Wall Street Journal reports. Shareholders of record on Wednesday, March 13th will be paid a dividend of 0.475 per share by the utilities provider on Friday, March 29th. This represents a $1.90 dividend on an annualized basis and a yield of 2.67%. The ex-dividend date is Tuesday, March 12th.
Ameren has increased its dividend by an average of 3.7% per year over the last three years and has raised its dividend every year for the last 5 years. Ameren has a dividend payout ratio of 58.5% meaning its dividend is sufficiently covered by earnings. Equities research analysts expect Ameren to earn $3.52 per share next year, which means the company should continue to be able to cover its $1.90 annual dividend with an expected future payout ratio of 54.0%.
Shares of AEE stock opened at $71.07 on Thursday. The company has a market capitalization of $17.36 billion, a price-to-earnings ratio of 21.09, a price-to-earnings-growth ratio of 3.22 and a beta of 0.31. The company has a quick ratio of 0.39, a current ratio of 0.57 and a debt-to-equity ratio of 1.01. Ameren has a fifty-two week low of $53.08 and a fifty-two week high of $72.36.
Ameren (NYSE:AEE) last issued its earnings results on Thursday, February 14th. The utilities provider reported $0.28 earnings per share for the quarter, missing the Zacks' consensus estimate of $0.32 by ($0.04). The business had revenue of $1.42 billion during the quarter, compared to the consensus estimate of $1.56 billion. Ameren had a return on equity of 10.87% and a net margin of 12.95%. The company's revenue for the quarter was up 1.4% compared to the same quarter last year. During the same quarter in the previous year, the firm posted $0.39 earnings per share. On average, research analysts anticipate that Ameren will post 3.3 earnings per share for the current year.
AEE has been the subject of a number of research analyst reports. Wells Fargo & Co lifted their target price on Ameren from $73.00 to $77.00 and gave the stock an "outperform" rating in a report on Monday, February 11th. UBS Group downgraded Ameren from a "buy" rating to a "neutral" rating and set a $71.00 target price for the company. in a report on Thursday, November 29th. Zacks Investment Research downgraded Ameren from a "strong-buy" rating to a "hold" rating in a report on Wednesday, February 13th. Morgan Stanley set a $73.00 target price on Ameren and gave the stock a "hold" rating in a report on Friday, February 22nd. Finally, ValuEngine upgraded Ameren from a "hold" rating to a "buy" rating in a report on Monday, November 12th. Seven research analysts have rated the stock with a hold rating and three have issued a buy rating to the stock. The stock currently has an average rating of "Hold" and an average price target of $68.13.
In other news, CEO Warner L. Baxter sold 41,090 shares of the business's stock in a transaction that occurred on Friday, March 1st. The stock was sold at an average price of $70.77, for a total transaction of $2,907,939.30. Following the completion of the sale, the chief executive officer now owns 364,913 shares in the company, valued at $25,824,893.01. The transaction was disclosed in a filing with the SEC, which is available at this hyperlink. Also, SVP Gregory L. Nelson sold 29,548 shares of the business's stock in a transaction that occurred on Friday, March 1st. The shares were sold at an average price of $70.84, for a total value of $2,093,180.32. Following the sale, the senior vice president now owns 37,268 shares of the company's stock, valued at approximately $2,640,065.12. The disclosure for this sale can be found here. In the last 90 days, insiders have sold 94,873 shares of company stock valued at $6,717,571. Corporate insiders own 0.44% of the company's stock.
TRADEMARK VIOLATION NOTICE: This article was originally posted by Zolmax and is the property of of Zolmax. If you are reading this article on another domain, it was stolen and republished in violation of United States and international copyright and trademark law. The original version of this article can be read at https://zolmax.com/investing/ameren-corp-aee-to-issue-quarterly-dividend-of-0-48-on-march-29th/2944358.html.
About Ameren
Ameren Corporation operates as a public utility holding company in the United States. It operates through four segments: Ameren Missouri, Ameren Illinois Electric Distribution, Ameren Illinois Natural Gas, and Ameren Transmission. The company engages in the rate-regulated electric generation, transmission, and distribution activities; and rate-regulated natural gas distribution and transmission businesses.
Featured Article: How liquidity affects the bid-ask spread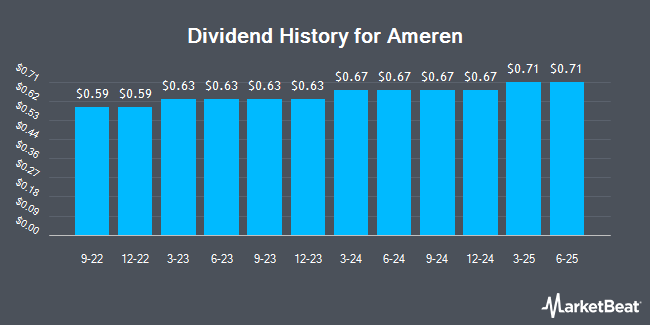 Receive News & Ratings for Ameren Daily - Enter your email address below to receive a concise daily summary of the latest news and analysts' ratings for Ameren and related companies with MarketBeat.com's FREE daily email newsletter.