Shares of Allegro MicroSystems, Inc. (NASDAQ:ALGM) have been assigned an average recommendation of "Buy" from the eight research firms that are covering the stock, MarketBeat reports. Eight equities research analysts have rated the stock with a buy recommendation. The average 1-year target price among analysts that have issued a report on the stock in the last year is $33.88.
Separately, Mizuho boosted their target price on Allegro MicroSystems from $35.00 to $38.00 and gave the company a "buy" rating in a research report on Thursday, May 6th.
Shares of NASDAQ:ALGM traded down $0.11 during mid-day trading on Friday, hitting $27.29. The company had a trading volume of 2,830 shares, compared to its average volume of 874,362. The company has a debt-to-equity ratio of 0.04, a current ratio of 3.69 and a quick ratio of 2.94. Allegro MicroSystems has a one year low of $16.78 and a one year high of $34.66. The company has a fifty day moving average of $25.78. The firm has a market capitalization of $5.17 billion and a P/E ratio of 113.42.
Allegro MicroSystems (NASDAQ:ALGM) last posted its quarterly earnings results on Tuesday, May 4th. The company reported $0.15 EPS for the quarter, topping analysts' consensus estimates of $0.14 by $0.01. The company had revenue of $175.11 million during the quarter, compared to analyst estimates of $167.00 million. During the same quarter in the previous year, the business posted $1.99 earnings per share. The company's revenue for the quarter was up .3% compared to the same quarter last year. On average, equities research analysts predict that Allegro MicroSystems will post 0.56 earnings per share for the current year.
In related news, SVP Thomas C. Jr. Teebagy sold 93,576 shares of the business's stock in a transaction dated Monday, April 26th. The shares were sold at an average price of $26.90, for a total transaction of $2,517,194.40. The transaction was disclosed in a legal filing with the SEC, which can be accessed through the SEC website. Also, CFO Paul V. Walsh, Jr. sold 65,275 shares of the company's stock in a transaction dated Tuesday, May 18th. The stock was sold at an average price of $23.98, for a total transaction of $1,565,294.50. Following the completion of the sale, the chief financial officer now directly owns 97,493 shares of the company's stock, valued at $2,337,882.14. The disclosure for this sale can be found here. Insiders sold 224,033 shares of company stock worth $5,790,936 in the last 90 days.
A number of institutional investors have recently modified their holdings of ALGM. First Trust Advisors LP purchased a new position in Allegro MicroSystems in the fourth quarter worth $3,945,000. Treasurer of the State of North Carolina purchased a new position in shares of Allegro MicroSystems in the 4th quarter worth about $283,000. State of Wisconsin Investment Board bought a new position in Allegro MicroSystems during the fourth quarter valued at about $1,877,000. Sumitomo Mitsui Trust Holdings Inc. purchased a new stake in Allegro MicroSystems during the fourth quarter worth about $952,000. Finally, BlackRock Inc. bought a new stake in Allegro MicroSystems in the fourth quarter worth about $57,170,000. Institutional investors and hedge funds own 41.13% of the company's stock.
Allegro MicroSystems Company Profile
Allegro MicroSystems, Inc designs, develops, manufactures, and markets sensor integrated circuits (ICs) and application-specific analog power ICs for motion control and energy-efficient systems. Its products include magnetic sensor ICs, such as position, speed, and current sensor ICs; and power ICs comprising motor driver ICs, and regulator and LED driver ICs, as well as photonic and 3D sensing components, including photodiodes, eye-safe lasers and rangefinders, and readout ICs for LiDAR applications.
Recommended Story: Most Volatile Stocks – What Investors Need to Know to Maximize ROI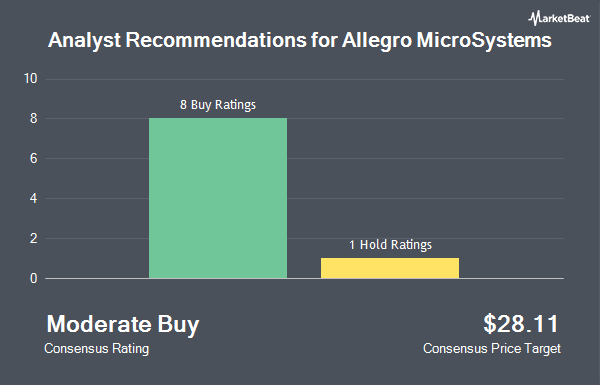 Receive News & Ratings for Allegro MicroSystems Daily - Enter your email address below to receive a concise daily summary of the latest news and analysts' ratings for Allegro MicroSystems and related companies with MarketBeat.com's FREE daily email newsletter.