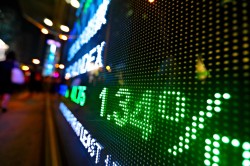 AirMedia Group Inc (NASDAQ:AMCN) shot up 0.6% on Friday . The stock traded as high as $1.84 and last traded at $1.66. 9,044 shares traded hands during mid-day trading, a decline of 29% from the average session volume of 12,764 shares. The stock had previously closed at $1.65.
The company has a debt-to-equity ratio of 0.19, a current ratio of 0.59 and a quick ratio of 0.59.
An institutional investor recently raised its position in AirMedia Group stock. Morgan Stanley grew its stake in AirMedia Group Inc (NASDAQ:AMCN) by 6.0% during the 1st quarter, according to the company in its most recent 13F filing with the Securities and Exchange Commission. The firm owned 911,563 shares of the business services provider's stock after purchasing an additional 51,842 shares during the period. Morgan Stanley owned approximately 7.26% of AirMedia Group worth $392,000 as of its most recent filing with the Securities and Exchange Commission. Institutional investors and hedge funds own 7.80% of the company's stock.
TRADEMARK VIOLATION WARNING: This article was originally published by Zolmax and is the sole property of of Zolmax. If you are reading this article on another website, it was stolen and republished in violation of United States & international copyright law. The legal version of this article can be read at https://zolmax.com/investing/airmedia-group-nasdaqamcn-shares-up-0-6/3114491.html.
AirMedia Group Company Profile (NASDAQ:AMCN)
AirMedia Group Inc operates out-of-home advertising platforms in the People's Republic of China. The company operates a network of digital (television) TV screens on planes operated by 7 airlines; and gas station media network, as well as other outdoor media advertising platforms in gas stations.
Featured Story: What are benefits of a growth and income fund?
Receive News & Ratings for AirMedia Group Daily - Enter your email address below to receive a concise daily summary of the latest news and analysts' ratings for AirMedia Group and related companies with MarketBeat.com's FREE daily email newsletter.