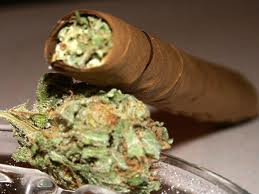 There are a number of multiple sclerosis sufferers who say smoking marijuana relieves the symptoms, although there has never been testing done on the subject. However, a new study found that smoking marijuana does have a measurable and rapid effect on patients with MS.   On Monday, the study was published in the Canadian Medical Association Journal.
Thirty patients suffering from MS were recruited for the study. Those recruited suffered from spasticity, involuntary spasms in muscles and stiffness that are a very common symptom of the disorder. The participants also suffered from back pain. The 30 were divided in two groups. One group had marijuana and one a placebo marijuana.
Forty-five minutes following the smoking of the marijuana or placebo, subjects were given a test of muscle tone in their elbows, knees and hips, a test on walking speed, a pain inventory and an exam measuring cognitive symptoms.
Prior tests found used cannabinoids that were administered orally elicited subjective improvements for spasticity among sufferers of MS, but there was no evidence that actual change took place. In addition, medications that are anti-spasmodic including tizanidine and baclofen, are helpful in reducing the amount of spasticity in a number of patients. However, while there seems to be some un-defined cognitive side effects, there was no hiding the effect of smoking marijuana.
Though well tolerated in general by all the participants, smoking marijuana was accompanied by acute cognitive effects, said the authors of the report. Future studies should focus on the effect of less than an entire cigarette of marijuana on MS and whether it has the same benefits with a much less level of feeling high.