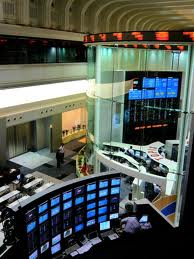 World markets were mired in sell offs on Friday after hearing bad news about German confidence and Moody's downgrading of another 15 banks. After trading closed in the U.S. on Thursday, Moody's downgraded 15 major banks including Goldman Sachs, JP Morgan and Bank of America.
That helped to weigh on markets in Asian and Europe on Friday, which were already closed long before the bank downgrades were announced. Adding to the already pessimistic outlook by investors was more weak data out of Germany.
German data was soft, and at a two-year low. Analysts said that the recession was beginning to make its way into all countries throughout Europe. The Ifo Business Climate Index is watched closely in Germany for trade and industry. It dropped to its lowest level since March of 2010. Companies had much lower expectations for at least the next six months.
The news followed a report by purchasing managers that showed deteriorating conditions for the second consecutive month in Germany. Germany has been one of Europe's economic bastions amid its mostly sluggish neighbors in Europe. The country sends nearly 60% of all its exports to members of the European Union. Germany has started to feel the impact of the economic malaise that is surrounding it.
Spain is also being rocked by the recession. The banking industry requires a capital injection of more than $79 billion just to remain afloat. The Shanghai Composite and Hong Kong's Hang Seng both closed lower on Friday along with the Nikkei in Tokyo.
Wall Street futures showed a rebound for Friday after having one of the year's worst sessions on Thursday.