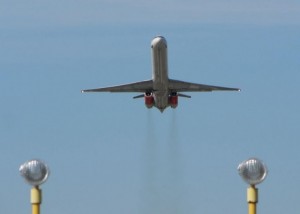 A criminal complaint filed in federal court on Thursday alleges that Clayton Obson, a JetBlue captain, told his co-pilot, "We must make a leap of faith."
The pilot had a meltdown in midair Tuesday and the criminal complaint suggests Obson was acting strangely as early as take off on the flight to Las Vegas. The complaint said the captain was late in arriving to JFK Airport and missed the briefing of the crew. When the flight took off, Obson started to speak about focusing, church and being evaluated.
He started to make comments that were incoherent and asked the co-pilot to take over. Obson then yelled at air traffic controllers on the radio. He told them to quiet down. He talked about sins that go on in Las Vegas and at one points said the plane was not going to Las Vegas.
The complaint says Obson then abruptly exited the cockpit, pounded the door of a restroom that was occupied and became irate upon learning the co-pilot had locked him out of the cockpit.
The criminal complaint charges Obson with interfering with his flight crew and if found guilty he could be sentenced to 20 years behind bars. JetBlue has suspended Obson until his flight has been reviewed. David Barger, the CEO of JetBlue described Obson as a "consummate professional."
FAA requirements called for all pilots to have medical certificates. Obson last had a medical exam in December, which he passed.